Ever wonder what happens when you take your computer to a technician, or a store to be serviced?
Sure they fix your problems, but at what cost? There are a range of resources you can do your self at home that are quick, free and easy.
This post will continue to expand on a wide range of software to resolve most common issues or dilemma's that commonly effect us.
Magical Jelly Bean Keyfinder
What is it?
The Magical Jelly Bean Keyfinder is a freeware open source utility that retrieves your Product Key (cd key) used to install Windows from your registry. It allows you to print or save your keys for safekeeping. It works on Windows 95, 98, ME, 2000, XP, Vista, Server 2003, Server 2008, Office XP, Office 2003, and Office 2007 family of products. It also has a community-updated configuration file that retrieves product keys for many other applications. Another feature is the ability to retrieve product keys from unbootable Windows installations.
Screenshot: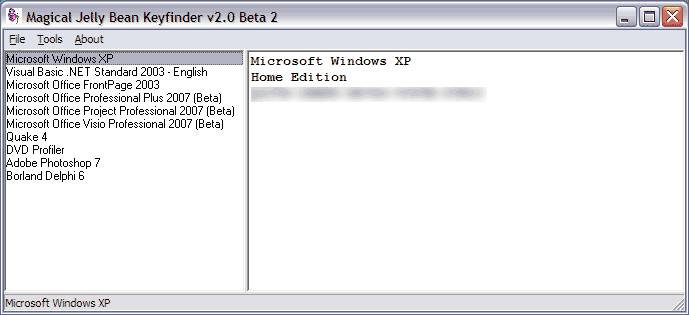 Download:
http://magicaljellybean.com/keyfinder/
Undelete Plus
What is it?
Undelete Plus is a quick and effective way to restore accidentally deleted files. It can also recover files that have been emptied from the Recycle Bin, permanantly deleted files within Windows using the Shift + Delete, and files that have been deleted from within a Command
Prompt.

Undelete Plus works under Win 95/98/Me/NT/2000/XP/2003/Vista operating systems. The program supports all Windows file systems for hard and floppy drives including FAT12/16/32,NTFS/NTFS5 and image recovery from CompactFlash, SmartMedia, MultiMedia and Secure Digital cards.
Screenshot:
Download:
http://www.undelete-plus.com
SIW - System Information for Windows
What is it?
SIW is an advanced System Information for Windows tool that gathers detailed information about your system properties and settings and displays it in an extremely comprehensible manner.

SIW can create a report file (CSV, HTML, TXT or XML), and is able to run in batch mode (for Asset Inventory Tracking, Computer (Software and Hardware) Inventory, PC Audit, Software Audit, Software License Compliance Management).

The system information is divided into few major categories:

* Software: Operating System, Installed Software and Hotfixes, Processes, Services, Users, Open Files, System Uptime, Installed Codecs, Software Licenses (Product Keys / Serial Numbers / CD Key), Secrets (Password Recovery).
* Hardware: Motherboard, Sensors, BIOS, CPU, chipset, PCI/AGP, USB and ISA/PnP Devices, Memory, Video Card, Monitor, Disk Drives, CD/DVD Devices, SCSI Devices, S.M.A.R.T., Ports, Printers.
* Network: Network Cards, Network Shares, currently active Network Connections, Open Ports.
* Tools: Eureka! (Reveal lost passwords hidden behind asterisks), MAC Address Changer, Monitor Test, Shutdown / Restart.
* Real-time monitors: CPU, Memory, Page File usage and Network Traffic.

SIW is a standalone utility that does not require installation (Portable Freeware) - one less installed program on your PC as well the fact that you can run the program directly from an USB flash drive, from a floppy, from a network drive or from a domain login script.

Platform: Microsoft Windows 98 / Me / NT4 / 2000 / XP / Server 2003 / Media Center / Tablet PC / Windows 2003 Server R2 / Windows Server 2003 x64 / Windows XP x64 / Windows Vista / Windows Vista x64 / Windows Server 2008 / Windows Server 2008 x64 / WinRE / Bart PE / Winternals ERD Commander
Screenshot:
Download:
http://www.gtopala.com
Gnome Partition Editor
What is it?
GParted is the Gnome Partition Editor application. Before attempting to use it, here is some basic background information.

A hard disk is usually subdivided into one or more partitions. These partitions are normally not re-sizable (making one smaller and the adjacent one larger). The purpose of GParted is to allow the individual to take a hard disk and change the partition organization therein, while preserving the partition contents.

GParted is an industrial-strength package for creating, destroying, resizing, moving, checking and copying partitions, and the file systems on them. This is useful for creating space for new operating systems, reorganizing disk usage, copying data residing on hard disks and mirroring one partition with another (disk imaging). See Features, before using it.
Screenshot:
Download:
http://gparted.sourceforge.net/livecd.php
Ophcrack
What is it?
Ophcrack is a free Windows password cracker based on rainbow tables. It is a very efficient implementation of rainbow tables done by the inventors of the method. It comes with a Graphical User Interface and runs on multiple platforms.

» Runs on Windows, Linux/Unix, Mac OS X, ...
» Cracks LM and NTLM hashes.
» Free tables available for Windows XP and Vista.
» Brute-force module for simple passwords.
» LiveCD available to simplify the cracking.
» Loads hashes from encrypted SAM recovered from a Windows partition, Vista included.
» Free and open source software (GPL).
Screenshot:
Download:
http://ophcrack.sourceforge.net
Ultimate Boot CD
There are many tools that you can find on the Ultimate Boot CD, and really is a great little package that saves me from adding another 50+ items to this thread.
For a number of years
Internode
have provided a mirror for this CD, it can be found here:
ftp://mirror.internode.on.net/pub/ubcd
http://mirror.internode.on.net/pub/ubcd
I can't put it any better, so I will quote the UBCD website on this one
You need the Ultimate Boot CD if you want to:

* Run floppy-based diagnostic tools from CDROM drives. More and more PCs are shipped without floppy drives these days, and it is such a royal pain when you need to run diagnostic tools on them.

* Free yourself from the slow loading speed of the floppy drive. Even if you do have a floppy drive, it is still much much faster to run your diagnostic tools from the CDROM drive, rather than wait for the tool to load from the floppy drive.

* Consolidate as many diagnostic tools as possible into one bootable CD. Wouldn't you like to avoid digging into the dusty box to look for the right floppy disk, but simply run them all from a single CD? Then the Ultimate Boot CD is for you!

* Run Ultimate Boot CD from your USB memory stick. A script on the CD prepares your USB memory stick so that it can be used on newer machines that supports booting from USB devices. You can access the same tools as you would from the CD version.


When you boot up from the CD, a text-based menu will be displayed. Select the tool you want to run. Once selected the tool actually boots off a virtual floppy disk created in memory.
Whats on the Ultimate Boot CD?
Anything you could want, even things that don't exist are on this CD.
For a full and up to date list, visit the official website -
http://www.ultimatebootcd.com
Tutorials and Customization:
http://www.ultimatebootcd.com/tutorials.html
http://www.ultimatebootcd.com/customize.html
So there you go. The UBCD will be your next stop if you ever have a Hard drive issue, ram problem or a range of other things you just need to resolve.
It's free and easy